2021 Sea Sport Rendezvous Wrap-up
October 6, 2021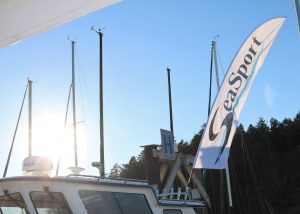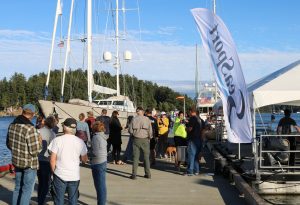 Our long-awaited 2021 Sea Sport Rendezvous was a big success!  This year it took place on September 10-12th, and if you're not familiar, the Rendezvous is an annual weekend-long event held in Friday Harbor, WA.  It gives us at Sea Sport the opportunity to reconnect with our boat owners, and get to know them in a fun atmosphere while doing something we all love… boating!  (Scroll down for more photos.)
After having to cancel the event last year, we feel fortunate to have been able to get back together this year.  We had over 40 boats signed up before the Delta variant became a disruptive factor.  Then, due to the Canadian border remaining closed, we were also unable to gather with our friends to the North.  This was truly discouraging but we're hopeful that it will be resolved by next year.  Everyone who had to cancel was greatly missed.  Overall, we ended up with 25 boats and about 70 people who were fired up to celebrate.  Speaking of celebrations, we were also finally able to honor Ron Wright and his retirement after over 55 years of building Sea Sport boats!
We have an incredibly warm and welcoming community of people here, which includes all ages… and there is always room for more!  We encourage ALL Sea Sport boat owners to come out and join us next year.  You're sure to make it your new tradition!
A HUGE Thank you to our vendors…
We have some amazing and very generous vendors, listed below, to whom we would like to give a special shout-out.  Thank you all for going above and beyond with your donations this year!  Our boaters were spoiled with some very cool prizes, and we had so many to give away, that it went late into the night!  All of your donations were sincerely appreciated and enjoyed!  Thank you again!