2023 Sea Sport Rendezvous Wrap-Up
September 18, 2023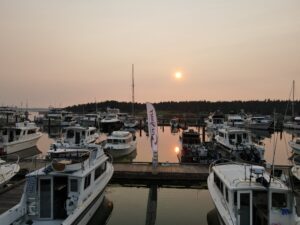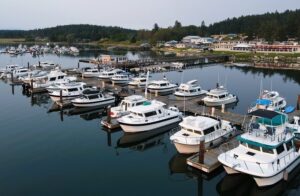 Our 2023 Sea Sport Rendezvous with its new location and earlier start date turned out to be more of a success than we could have hoped for.  We moved the date up to August in hopes of better weather and it paid off with lots of sunshine!  We also took a gamble on changing up the scenery by moving the location over to Lopez Island in Fisherman Bay.  This decision did not disappoint and in fact, more people than we can count have asked for a repeat visit next year.  If you were there, you know why.  The Lopez Islander Resort's relaxed vacation-mode atmosphere and warm, welcoming vibe was felt from the minute we arrived and continued throughout the entire weekend.
If this is the first time you're hearing about it, the Rendezvous is our annual, weekend-long celebration of our Sea Sport boat owners and their families.  It's our chance to relax and engage with our community and those who are out there representing our beloved brand.  There's no better way for our boaters to connect and get to know each other.  This year we had 34 boats and 112 people in attendance.
People eagerly arrive at different times throughout the day, but the weekend officially kicks off on Friday evening with an organized potluck.  This year, the ambience alone was one of the best ever, set up in a beautiful, grassy picnic area on the waterfront.  The food was not to be outdone by the scenery though, as people once again stepped up their potluck game.  We were covered from appies to desserts and everything in between, including our very own guys grilling up the main course.  We've said it before and we'll say it again… we need a Sea Sport potluck recipe book!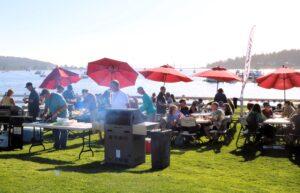 Saturday night's dinner was a bit of an exceptional surprise,  and there's no other way to describe it.  The fabulous chef behind the menu treated us to an outstanding buffet of prime rib and salmon, both cooked to perfection, which is hard to do when it's a buffet.  Freshly caught crab (literally caught on the way out to the island) was also served up, again by our own Sea Sport gents.  The evening continued with the always anticipated prize giveaway, done raffle style.  Our amazing vendors outdid themselves this year, as we had more prizes than people, so everyone left with something!  Those who weren't ready to call it a night just moved the party over to the Tiki Lounge (also onsite), where they enjoyed live music followed by karaoke.  Some families took their kids over to the pool for an evening swim.  This place has everything!
Just like last year, we had more than a dozen kids in attendance, which is a reminder to those of you who think you need to leave the kids at home.  It is truly a family-friendly weekend with people, pets, and boats of all ages!  We may be biased, but our Sea Sport community is made up of the absolute best people out there.  Everyone is welcomed like an old friend and treated like family.  So, if you're one of those people who keeps thinking about it, but still haven't attended the rendezvous, you just need to get out of your comfort zone and join us next year.  We promise you will be so glad you did!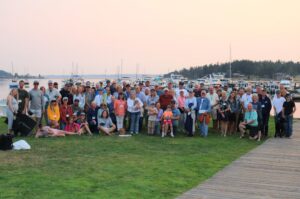 It may not come as a surprise, but we couldn't have loved the Lopez Islander Resort (and it's fantastic staff) more, and we've already locked them down for next year.  So mark your calendars for the weekend of August 9-11, 2024.  We look forward to seeing you out there!
Thank you to Our Vendors!!!
As always, we have the most incredible vendors (listed below) who care about and participate in this event every year.  They do this by donating money, the amazing prizes we raffle off on Saturday night, or the items we put in the swag bags for each of our guests.  They all know how much this event means to us and they love to help us spoil our boat owners.  So, a HUGE THANK YOU goes out to our bighearted and generous vendors!  The weekend would not be a success without their help.